CRAR BCN,
The first referral center of Barcelona specialized in Veterinary Rehabilitation.
We are veterinary rehabilitators:
Post-surgical recovery
Cruciate ligament rupture (extracapsular techniques, TTA, TPLO …), elbow / arthroscopy surgery, patellar luxation, arthroplasty or hip replacement, traumatic fractures, partial or complete arthrodesis.
Musculoskeletal lesions
Tendinopathy of m. supraspinatus, tendinopathy of m. biceps, medial shoulder instability, carpal hyperextension grade I-II, conservative management of cruciate ligament rupture, patellar luxation grade I-II, hip and elbow dysplasia, myopathy of m. gracilis, fibrotic contracture of m. quadriceps, tendinopathy of the Achilles tendon.
Neurological lesions
Post-surgical and conservative management of herniated discs (SLOT, hemilaminectomies, fenestration, etc …), spinal stabilization, chronic disc protrusions, Wobbler syndrome, vertebral subluxations, syringomyelia, neuropathies.
Degenerative diseases
Chronic joint degeneration (osteoarthritis of the hip, knee, elbow), degenerative myelopathy, degenerative lumbosacral stenosis…
Impaired mobility and/or secondary pain
Fibrocartilaginous thromboembolism in dogs, feline aortic thromboembolism, immunocomplex deposition due to leishmaniosis/ehrlichiosis, Neospora spp.infection, cerebellar hypoplasia, swimmer syndrome, agenesis and/or aplasia …
Healing problems
With laser we can help to the management of wound closure, treat multirresistant bacteria otitis, cure gingivostomatitis in cats…
Referral veterinary centers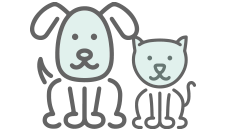 Patients treated every month
m2 dedicated to rehabilitation
*coming soon
Why doing rehabilitation?
Our mission is to return as much as possible the locomotive capacities to the patient and improve its quality of life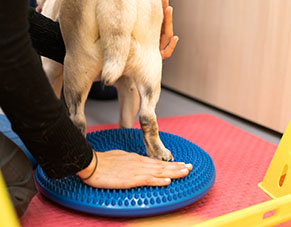 Relieves acute and chronic pain
Reduce post-surgical recovery time
Improves the quality of life of senior animals
Decreases the need for drug treatment
Can prevent injuries and recurrences
Increases the success of managing overweight patients
Improves the performance of the sportive or working dogs
Helps the improvement in behaviour disorders
Massage techniques and manual therapy
Kinetiks and neuro-motor control
Hydrotherapy – Underwater treadmill
Capacitive-resistive radio frequency
(Indiba Animal Health)
Neural Therapy
Laser therapy (K-Laser)
Acupuncture and electroanalgesia
Pulsating magnetic fields
Chiropractic
Sports and Growth Medicine
Orthopaedics devices & Customized 3D braces
Way of working
Personalized Rehabilitation Plan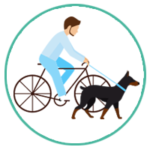 The PATIENT, the OWNER and the CIRCUMSTANCES of the moment must be taken into account when carrying out the rehabilitation plan.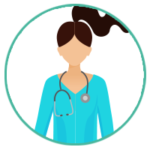 That's why we perform:
Clinic history
Environment analysis
Diet assessment

Functional

questionnaires

Posture evaluation
Evaluation of movement and gait pattern
Palpation diagnosis
Veterinary, neurological and orthopaedic physical exam.
thanks to these data we set the OBJECTIVES to comply with the collaboration of the owner.
We establish a PERSONALIZED REHABILITATION PLAN .
Acording to the therapies chosen in the rehabilitacion plan, the duration and frequency f the sessions can vary.
Facilities
Our center is fully enabled so that all pets with mobility problems can move easily.
Discover our underwater treadmill hydrotherapy area, where animals can recover their muscles mass without joint impact.
The center has a large gym area to exercise different muscle groups and work the proprioception.
In addition, we have a quiet and noise-free space, where animals can receive physical and manual therapy treatments without distractions.
Referrer Service
If you are interested in being a referral center or wish to send us a case, contact us and we will provide you with all the information.
We want to be a reliable complement for all those hospitals, clinics and veterinary facilities that require a rehab service for their patients, without fear of losing the client, because we do not offer any other service outside our specialty. Thus, we also advise those veterinary rehabilitators who need a second opinion or need to refer a case to make a specific therapy.
How does the referral service work?
We receive from you the historyand all the testsperformed (x-rays, labs performed…)
We do a case study and get in touch with your center.
We met with the owner, and after the first functional assessment visit and already established the rehabilitation plan, you will receive a copy.Weekly, we will inform you of the evolution of the patient, always being available for any consultation.
CRAR BCN is also for you…
Do you want to take care of your pet completely?
Are you worried that your senior pet doesn't have a good quality of life?
Do you want him/her to recover as quickly as possible from an injury or surgery?
Does his/her have pain and would you like to give him/her less drugs?
… From CRAR we will coordinate with your veterinarian to assess your case together and look for the best therapeutic combination.